You may have outgrown trick-or-treating, but one of the perks of growing older is getting your own dog. And one of the perks of getting a dog is putting them in the most ridiculous costumes because it's cute as heck. Check out some of the best unique couples costumes for you and your pup that'll have you crowned the winner of your Halloween pawty costume contests.
1. Matching Mask and Dog Bandana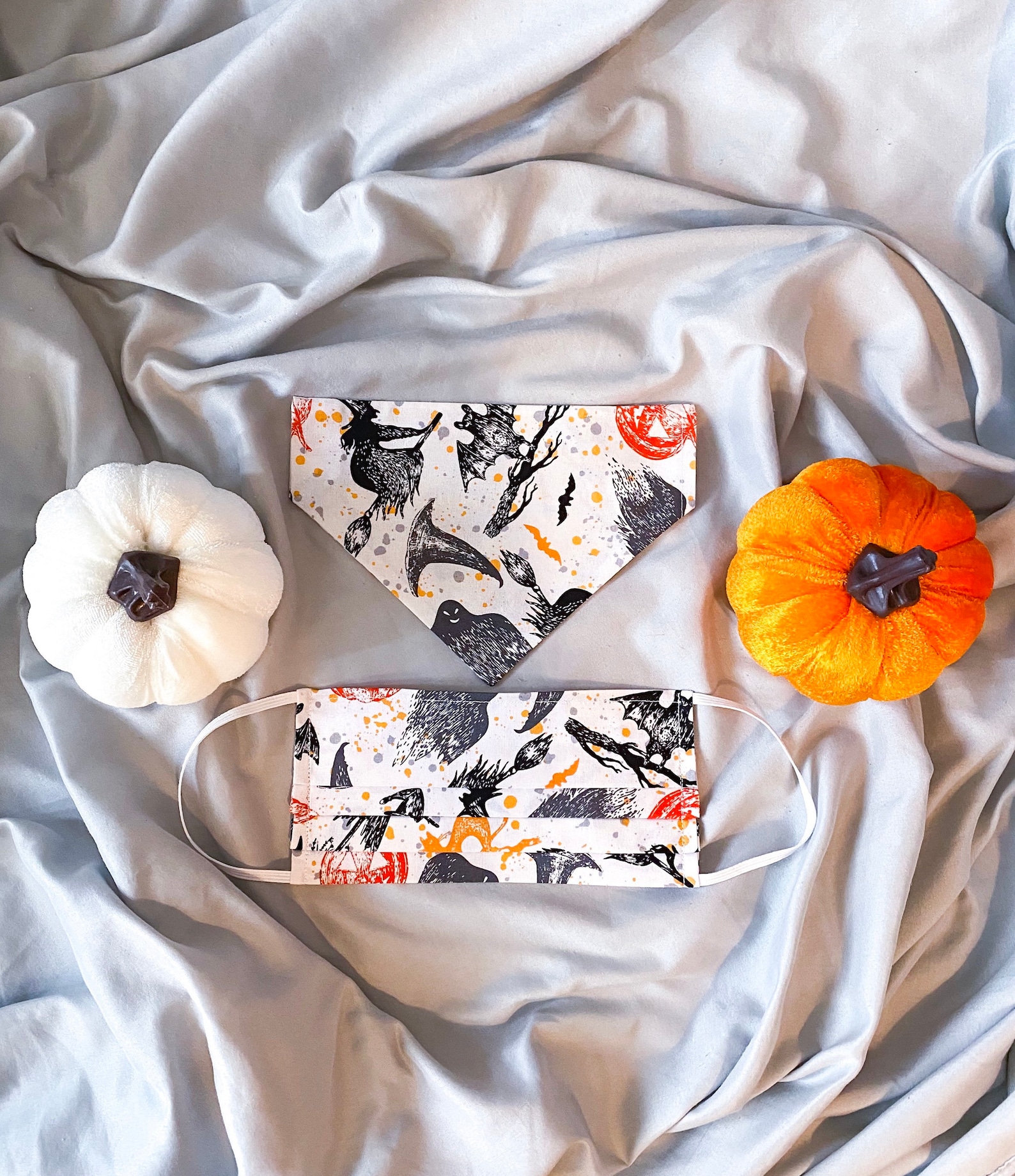 Your dog may want to have the scariest costume at doggie daycare, but there's nothing scarier than COVID these days. If you want to be seasonal and responsible, get a matching face mask and bandana for you and your buddy. It'll be perfect for your autumnal strolls!
Get the set from ThePupstarShop on Etsy for $15.39.
2. Sebastian & Ariel from The Little Mermaid
You two will be the shell of the ball in this matching costume.
3. Hot Dog Vendor & a Hot Dog
You don't even need a doxie because all dogs are hot dogs!
4. Dogtor Shepherd & Meredith Grey from Grey's Anatomy
This costume is so good, you'll have no problem renewing it for sixteen seasons.
5. Members of Devo from the Whip It Music Video
Find three friends to complete this group costume and help your dog achieve their dream of being a whippet who can whip it good.
6. Mario Kart Characters & Bananas
Everyone will be racing to copy this star(man) of a costume next year.
7. Unicorns
Your perfect dog is already a unicorn, so may as well become one for Halloween.
8. Catdog
If you ever dreamt of being connected to your dog all the time, make it come true for at least one day this year with a CatDog costume.
9. Scooby Doo & Members of the Scooby Gang from Scooby Doo
It's no mystery who's the cutest couple this year for Halloween!
10. Local Ice Cream Shop
If you wanted screams for your costume, you'll be guaranteed to get some (except they may be screaming for ice cream).
11. Fast Food Combo
Hamburger and hot dogs, hamburger and fries, hot dogs and pizza…the pairings of perfect fast food combos is truly limitless.
What's your pup's favorite costume? Woof at us in the comments and don't forget to tag #SidewalkDog on your dog's IG posts this Halloween!
(Featured photo by joannafotograf)

Sidewalk Dog's mission is to help dog parents spend more time with their puppers by discovering and sharing activities they can do and places they can go—together! Sniff out our award-winning newsletter and Instagram, and join our dog-obsessed Facebook group.
More reads you'll ruv: